Welcome!
You're probably not thinking about writing right now. You're probably thinking about housing, Sodexo, paperwork, finances, etc. etc. ad nauseum. In a few months, you will be thinking about writing. Oh yes, you will. To help you remember us, here's a picture of a nesting dog: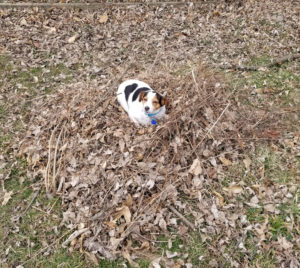 The Writing Center provides feedback for writers. You make an appointment through the online scheduler, send us your writing, and then have a conversation with a writing consultant. The conversation can be about specific concerns you have, what's working well, what could work better, your writing process, research, whatever. If you're worried about the little stuff–grammar, proper citation format, little style issues–we can do that. If you don't have anything written and want to brainstorm, we can do that. If you don't understand a writing assignment, we can help. If you've just written the best paper in Truman's history, but you just want someone to read it and make sure you're not hallucinating your own awesomeness, we'll do that.
Who Uses the Writing Center?
First years, sophs, juniors, seniors, grad students, and faculty. Students in every major. The best writers, the worst writers, and everyone in between.
What Types of Writing Do You Look At? 
Anything written in English, but we do sometimes have a consultant for Spanish writing (not basic language stuff). Essays, research papers, case studies, creative writing, personal statements for grad school or internships, letters, lab reports, and anything else you're writing as a Truman student, for a class or not for a class.
Who are these Writing Consultants?
Alien robots constr . . . no, they're your fellow students. They're selectively hired based on three criteria: understanding of academic writing, interpersonal demeanor, and motivation toward helping people help themselves. Then they're trained (a course and ongoing workshops). We hire across all majors.
When Can I Use the Writing Center?
Whenever there are available hours. Check the online scheduler. Hours change from semester to semester, but we usually have about a hundred scheduled hours per week. You can walk in, but an appointment is going to guarantee you a space. The hours usually run from about 8:30 AM to 5:00 PM Monday through Friday. Occasionally, a consultant will be able to swing a Saturday afternoon schedule. We often have consultants in the evening, and that will increase with our move to the library (PML 107) in fall of 2020.
Where Are You?
Such deep questions you're asking. We're in the library (PML 107): go to the right around the outside of the circular stairway, then bend left through the columns. No, wait! You're in the café. We're just to the right of the café inside the dark green area. See the fish tank? That's us.
As a First-Semester Truman Student, What Do I Need to Know About Using the Writing Center?
You're not going to become a more effective writer by closing your mind to change. Come to the WC willing to tear apart and tinker with your writing and your writing process. If you're required to come to the WC, don't raise your hackles. Sometimes your profs will accidentally say, "You have to go to the Writing Center." It's not punishment. Also, irritatingly, some profs will pick out less effective writers and tell them to use the Writing Center, as if the WC is a remedial service. We serve all writers in the Truman community.
So You Pretty Much Do Everything?
We help writers become better writers. That means we don't fix your paper and hand it back to you. That would suck. You'd never grow as a writer. We also don't guarantee a certain grade. It's not about the grade with us, even if it is with you. We want you to become a more effective writer. If that coincides with better grades, then "yay!" We do occasionally have an online consultation service (hello, COVID-19), but this is typically reserved for summer online courses, students studying abroad or commuting, or students with particular disabilities. Face-to-face consultations are easily the most efficient and effective mode of consultation.
Is Writing Really That Difficult at Truman?
The standard is high, yes. However, think beyond Truman. Employers' no. 1 or 2 most desired skill is ability to write and speak effectively. Whatever job you find yourself in, being a skilled communicator is going to make you more valuable. Truman profs know this, and so they tend (often probably unconsciously) to treat undergraduates like graduate students. The bar is raised. We can help.
What If I Want to Work at the Writing Center?
You think you have the right stuff, eh? Ere you cross the bridge of death . . . ok, enough of that. You can't work at the WC until your second year. We (and the university) want you to get this first year out of the way, get used to the Truman context, get things settled, and so on. We hire in the spring for the following fall. The application is here. We compensate with scholarship hours, institutional (per hour), or workstudy. Institutional funding is more competitive (there's less money available). What's a scholarship hour? See Financial Aid. If you're still thinking of applying, and you have questions, please ask them!
How Do I Ask Questions About the Wri . . . the WC?
Our email is difficult to remember. Get a pencil and several sheets of paper. Here it is: write@truman.edu. You see our website address above. Our phone number is 660-785-4484.